Blog > Out Walking Your Dogs (or Kids?)
Posted June 8, 2020
Then come take a peek in the library's many windows and see what you can see.  The library has not reopened its doors yet, but kids can still have fun outside the library and online on Facebook.
One of our outdoor programs is the Animal Photo Hunt.  As you can see from the pictures, a couple of neighborhood dogs walking past noticed the library's cat looking out a window, our big cat Leo the Lion that is.  They couldn't resist taking a closer look, of course.  But there is more than just Leo to see.  Several more of our "wild animals" are peeking out of different windows all around the library for you to find.  Bring your kids by to take photos of them and then share them on our Facebook page.
We also have a game of Live Choose Your Own Adventure.  The kids just follow the steps starting at the window to the left of our front doors.  It is marked with a bright pink "A".  As they read along and make their choices leading them around the library, they will get to pick up different pieces of "treasure".  When they reach the end, have the kids see what they can create with the items they picked up, then share a photo of their creation with us on our Facebook page.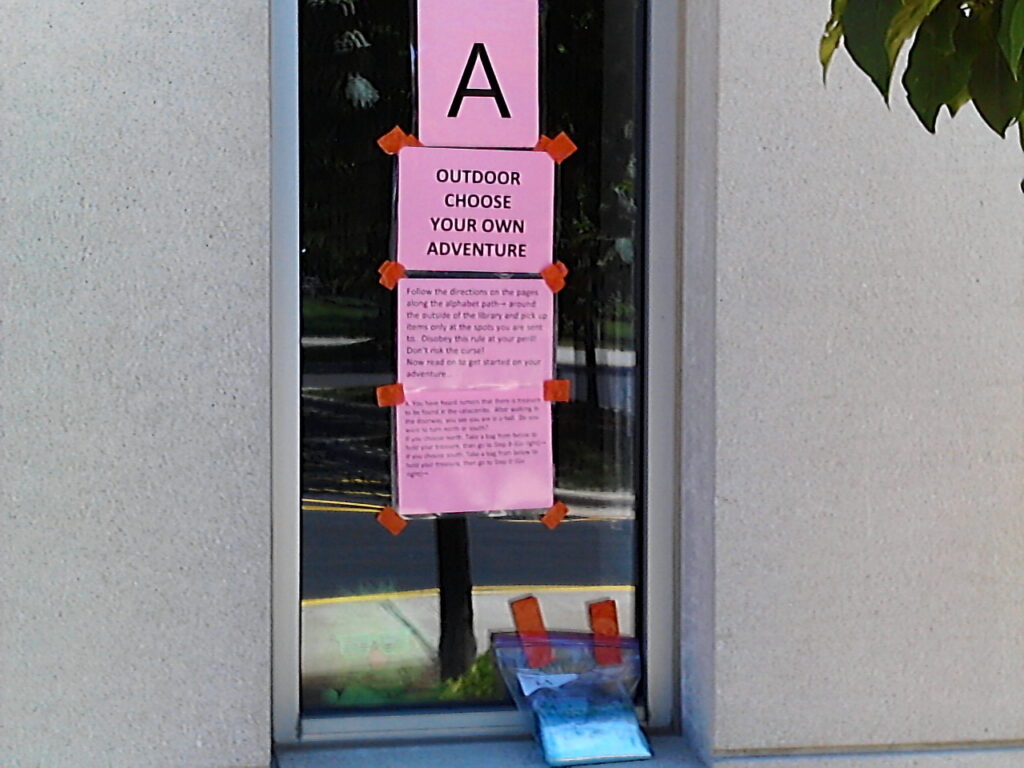 The last outdoor activity is I Spy.  Let the kids take a look in the windows that face 207th Street and see what they can see.  We have four different I Spy challenges, so if the kids do just one per visit and visit us once a week, it can last all month long!  Please post on our Facebook page when the kids have spied everything, because when we have enough postings, we will change the pictures so you can play again!
Have fun, take care, stay well, and check back here on the blog every Monday for more Youth Services information.