Teens
Save The Date
Super Hero Duel Club
Wednesday
October 11th
6 – 7 PM
Grades: 6th – 9th
Could Flash beat Daredevil in a fair fight? How about Dr. Strange versus Zatanna? At each meeting we'll compare and contrast the strengths, speed, abilities, etc. of two superheroes, discussing and debating who would win in a duel between them! Those who attend the first meeting in September will be given a FREE comic book!
---
TeenTober

Tuesday, October 3rd
6 – 8 PM
Come learn how to play and immerse yourself in the world of DND. All levels of Experience are Welcome.
Tuesday, October 10th
6 – 8 PM
Create stunning works of art with glow-in-the-dark paint and make yummy "potions".
Tuesday, October 17th
6 – 8 PM
Come watch spooky-themed anime while enjoying snacks.
Friday, October 20th
6 – 8 PM
Join us for an after-hours fright night based on the popular game, Five Nights at Freddy's! Can you solve the puzzles before Freddy and his friends get you? Come and find out!
Tuesday, October 24th
6 – 8 PM
Test your culinary skills with these Halloween-themed snacks. Can you nail the recipe?
---
3rd Annual Teen Video Game Tournament
Saturday, November 18th
1 – 4 PM
We're back and ready to get our game on! We'll be playing Super Smash Bros.Ultimate for a chance to win a 1st, 2nd, or 3rd place prize!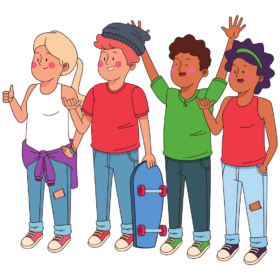 Volunteering
We no longer have positions open for volunteers at this time.